Digital transformation today affects more and more areas of business and human life. Those tools that were previously used exclusively by telecom companies and banking services are now becoming a part of modern life: for example, streaming available by subscription, subscription discounts for buying clothes or cosmetics online, buying a subscription for software maintenance, etc.
The subscription model or billing by subscription is at its peak today – according to a survey by McKinsey & Company, 46% of customers already pay for streaming services, as well as access to paid content and registries, and 15% signed up for a year of participation in the survey.
That is why the task of creating specialized digital platforms that provide secure billing functionality based on a subscription model for both private businesses and cumbersome government agencies becomes urgent. How can this be done? The experience of implementing such platforms by large players and players suggests building a unified system as the most rational approach. To keep your subscription business growing, it's important to keep your service consumption and subscriber information in one place using a billing and subscription management platform. Many companies are faced with the question: is it worth creating their platform or is it easier to buy a ready-made one?
It all depends on the target business model and customer needs. It is important to ensure that your system meets your current and future requirements and scales with your business.
What is needed for this? First of all, resources to not only create an initial solution (MVP) but also constantly develop it, including support for integration with other systems. It is also important to understand how your platform will handle monetary transactions, including dealing with stuck or erroneous payments – this requires a clear strategy for repeat transactions and returns. What to do with non-cash payments if the transactions were erroneous in the closed reporting period, and the counterparty is a VAT payer? Is integration with one payment gateway enough? Think of one more backup, sometimes at Christmas or New Year's, you won't be in a festive mood.
The geographical expansion of the business should be taken into account separately. As it is worth foreseeing solutions for currency, taxes and compliance with the requirements of personal data accounting. You should pay attention to the available tools and payment methods when expanding into the region – which may be accompanied by additional costs for local certification.
And what kind of support will you have for your marketing activities? In practice, the creation of promotions can be very diverse and effective in terms of product popularisation, but the cost of technical implementation can exceed business expectations.
5 strategic directions for creating subscription-based billing platforms
There is a primary list of requirements that product owners, customer-centric support, security, accounting analysts, finance, and application developers need to work through to create a subscription billing platform solution:
● Customer experience and subscription management
● Confidentiality, security and compliance
● Integrations and API
● Internal requirements and planning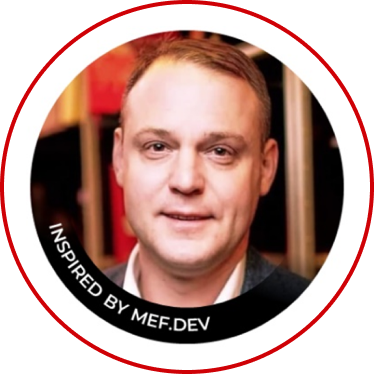 Sergej Polovnikov
and
MEF.DEV Authors
Dear Visionary,
I am delighted to invite you on behalf of MEF.DEV to become a member of Digital Transformation Community today and join to Technical Preview MEF.DEV platform. After automatic registration, the MEF.DEV platform will provide access to free tools for IT managers, analysts, ITOps engineers and developers involved in Digital Transformation projects.
The goal of the group is to suggest where to start in Digital Transformation projects, and how developers with technical knowledge gain the necessary management skills to successfully implement the project. Typically, digital transformation requires a transformation in the development process, so you can exchange views on how best to modernize the way software is developed and deployed. This significantly increases the chances of a successful digital transformation and puts the IT role at the forefront of the project.
Thank you for your consideration, I look forward to your membership and hope for your active participation in the community life!
● Development and resources
Customer experience and creation of subscription management
The popularity of subscriptions has skyrocketed over the past few years, especially in digital media and direct-to-consumer brands, and customers are increasingly demanding instant billing. This places additional requirements on the platform, namely:
– account management. Your subscribers want an easy way to manage their subscriptions, whether they want to update their billing information, change their billing plan, pause their subscription, or make other changes. This strategy takes the burden off your sales support team for common and multiple requests, allowing them to focus on non-routine requests or critical issues affecting service delivery and customer satisfaction.
– different payment models. Many companies, especially (but not exclusively) SaaS companies, choose a pricing model based on quantity or frequency of use (sometimes called Pay-as-You-Go). These billing models can incentivize subscribers to recoup products in large quantities, but more importantly, they provide an exact match between your costs of shipping more products and services and the value your subscribers get from those offers.
– payment methods for subscriptions. Customers prefer the choice – depending on the location and knowledge of payment systems, they can use credit and debit cards, cash payments, PayPal, Apple Pay, Google Pay, Venmo (application for mobile payments, belongs PayPal), and others. If you serve customers in multiple countries, you may also need to support multiple currencies. Adding them and payment methods to the platform's payment mix will take longer, but it's worth it.
– strategy of reminders and notifications. According to statistics, 5-15% of payment refusals occur monthly in subscription services, which requires repeated attempts, and this leads to refusals and additional interaction with customers. Integration with instant messengers from social networks comes in handy here, and, as mentioned above, customers always prefer a choice.
– various models for calculating tax rates. Various legislative issues can greatly complicate the billing service based on the subscription model. The rates of sales taxes, VAT and profits vary depending on the locations of subscribers and are constantly changing, not to mention the fact that, in addition to the calculation itself, there are even more requirements for tax reporting forms – this is also worth taking into account.
– different billing cycles and prorate (proportional distribution). Billing becomes seriously complicated when customers change tariffs (for example, several times during the month) or payment terms (for example, from monthly to annual or quarterly), and often refuse expensive subscriptions at the expense of cheaper ones, especially in the middle of the billing cycle. It also accounts for the notification system and the capture of user events. If you create your solution, then you need to connect the marketing and sales automation system so that your subscribers receive regular updates regarding tariff plans (reprice) and notifications when there are problems with payment.
– a system of bonuses and promotions. This is an effective strategy for attracting and retaining subscribers. The integration of these capabilities into the billing platform using a subscription model is beneficial, first of all, for cross-sale and upsell. It is useful to create an infrastructure to support trial periods (the try & buy) and bundled offers (bundle). While not required, offering some kind of free trial has a positive impact on sales.
– the ability to suspend a subscription. Rather than requiring a complete cancellation, the pause feature allows you to pause your subscription and resume it if desired. And re-registration is always difficult and expensive for both parties.
Privacy, security and compliance
The processing of sensitive payment information is a very serious and regulated business, especially when it comes to recurring payments. A subscription billing platform must protect subscriber data and comply with all privacy and tax laws wherever a business is registered. There are also some mandatory rules here:
– compliance with the GDPR standard or the relevant Ukrainian legislation. For the Ukrainian realities, since 2011, there has been a Law of Ukraine "On the Protection of Personal Data", partially developed according to the GDPR standard (the General Data Protection Regulation is valid in the EU countries). Its scope, including the processing of personal data, is carried out in whole or in part using automated or non-automated means. The scope of application is the entire territory of the state of Ukraine. What, according to the Law of Ukraine, qualifies as personal data? This is information or a set of information about an individual who is identified or can be specifically identified, as well as a personal database – called a set of ordered personal data in electronic form and/or in the form of personal data files. The law imposes on the owner of the billing platform, as the owner and manager of such information, certain obligations, the violation of which entails rather impressive penalties.
– implementation of PCI-DSS compliance. Merchants are responsible for ensuring PCI compliance at different levels depending on how many transactions they process per year and through which card issuers they accept payments: Visa, Mastercard, or Ukrainian Payment Space (NSMEP). It is also about the fact that companies must adhere to the requirements of Resolution No. 95 of the NBU (2018), which is based on the international standard ISO / IEC 27001. What does this mean? In addition to regular audits, the main financial regulator requires billing platforms to have a certain order of encryption algorithms, prohibition of anonymous algorithms, user authentication and the use of accredited key certification centres. And sometimes – from working with a technical auditor to verify that payments on payment cards are correctly tokenized and initiated accordingly.
– Compliance audit of SSAE 18 standard (SOX controls). The Sarbanes-Oxley Compliance Audit (SOX) Act has been in place in the United States since 2002, which must be followed by all public enterprises. According to the document, personally traded companies must maintain an effective system of internal control over financial reporting. SSAE 18 is a good way for a company to demonstrate transparency in auditing its financial statements and transactions.
Integrations and API
For the billing platform to be extensible by the subscription model, you will need to integrate it with other systems, including using the API, for this, you need to do the following:
– find out with which payment gateways the platform should be combined. There is no shortage of such services on the market, but which ones are right for you? An accurate calculation is needed here, which is based on the location of customers, the products and services of your business, and in what currency it will all be paid. You also need a backup gateway in case the main gateway fails.
– create an option to update the account. For example, the data of payment cards, since card numbers and their expiration dates are regularly changed for each client.
– build integration with the company's accounting system. Regardless of whether you use 1C, Parus, Universal or Delovod, the integration of accounting with a billing platform is a necessary element that affects the overall result of doing business.
– build platform integration with CRM. Sales tools such as Terrasoft, Bitrix 24 or internal development are needed to track all kinds of information about subscriber accounts, so you need to make sure that data about platform users go into your CRM system.
In addition to the above, the billing platform according to the subscription model must be connected to the ERP system and integrated with the SSO platform. You don't need to use SSO, but if you do, it is important that your platform with the SSO provider of your choice can protect sensitive client data.
Internal requirements and planning
Before building a subscription billing platform, you need to carefully plan your business over the long term. To do this, you should:
– study the indicators of the business. What is the current ARPU (average income, usually per month, per subscriber)? How many customers and what are the growth goals? What do subscriber retention rates look like? What are your development plans? All this and much more will help you understand how to create a platform that will work for your business.
– define your logical strategy for repeated transactions. Every time a failed transaction is repeated, it costs money. This is why it is important to create a data-driven strategy for when and how to repeat transactions.
– it is necessary to calculate the current level of involuntary churn of subscribers and determine the goals. Each subscription company deals with the forced churn of the audience for a variety of reasons – on average, this figure can reach 15% per month. Therefore, from the very beginning, you need to calculate the current rate of involuntary churn of users and determine the time horizon of the effectiveness of the billing platform according to the subscription model. It is desirable to lower this rate by moving forward with repeat transaction and reminder strategies.
– it is worth making a plan of experiments for different tariffs. Plans that work well for your business today won't stay optimal forever, especially as competitors, technology, and consumer tastes change. By creating the ability to A / B test different tariff models, you can always stay ahead of the competition and offer subscribers attractive prices and options.
– it is necessary to create an internal control panel. A billing platform based on a subscription model should facilitate business growth by providing insight into how both subscriptions and business work together. You can create a dashboard that helps you track things like the performance of different plans, creative impact, subscriber trends, and more.
– develop a method for detecting and eliminating fraud. As the popularity of e-commerce grows, so does the cost and risk of fraudulent attempts. According to Javelin Research, the costs associated with fraud and payments for compensation of damage can be up to 20% of operating budgets sellers. To combat cybercrime, it is very important to create or integrate a fraud management solution to prevent fraud and protect your business.
Development and resources
Building their billing platform, and maintaining its efficiency over the years will require a significant investment of time and effort. Moreover, it is also very expensive.
To create and operate a full-fledged platform, you need to have resources and a development team. This includes the involvement of professionals such as product and project managers, software and database developers, test engineers, system administrators and support administrators. If they are included in the staff, then this is also an additional constant burden on the wage fund.
Even according to the Ukrainian average estimates, it will take at least a year to create an initial minimum viable product by one team. The united team will cope much faster, but this means that you will have to separate the specialization of projects, as well as attract additional employees to complete the work – but this will pay off much faster than it might seem the first time.
It is worth considering the costs of maintaining and updating the platform, including for a long period. Internal resources will be required to ensure that the platform is protected from the latest security threats, plus, it must comply with the latest compliance standards, be integrated with partner systems, and work and earn money, and satisfy the needs of subscribers and businesses. You also need to make sure that you have plans and stress tests in place in case of force majeure, for example, if gateways fail, and uncontrolled failures and errors in updates occur in the system. It is important to understand that the more of your developers you use in the platform's functionality, the more main projects of your business will be ignored – and from a business point of view, it is not always easy to choose between roadmap projects of the priority. In other words, even if you urgently need a billing platform based on a subscription model, you will have to draw up a realistic schedule for its deployment, as well as take into account the period of pilot operation.
The benefits of a billing platform are clear – lower customer acquisition costs, better audience retention, and a more predictable revenue stream. A bonus is an excellent information field for marketing analysis of the impact of a product on the end consumer.
But building your subscription billing platform is very expensive. Therefore, recently it has become popular to attract industry partners for the development and administration of such solutions – it is much cheaper, easier and faster due to the division of specialization and joint development of IT projects.
For Ukrainian customers, the best option may be to use a ready-made solution as a basis for development, for example, the mef.dev platform, with an understandable interface, modern reference architecture, with standardized approaches to design, deployment and monitoring, including the above-mentioned SOX -controls.
The mef.dev platform allows developers of distributed teams to easily encapsulate code in containers for dependency injection, which gives architects of large applications ample opportunities for agile development, taking into account rapidly changing requirements, and T-project managers with additional assurance of project deadlines through management transparency and iterative development (evolution) of products.